Himmelfarb Headlines - September / October 2010
Director's Desk - Welcome to a New Academic Year!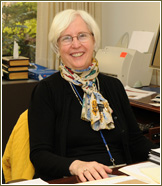 On behalf of the entire Himmelfarb Library staff, I would like to extend a warm welcome to all new Medical Center faculty, students, staff, residents, and fellows. I would also like to extend greetings to all returning faculty and students on the start of a new academic year.
The Library staff looks forward to meeting your information needs in the upcoming months. We also welcome your input! You may contact me at 202-994-1826 or alinton@gwu.edu. The Library's e-mail address is himmelfarb@gwu.edu. The telephone number for the reference desk is 202-994-2850. Or send us an instant message by following the directions at: http://himmelfarb.gwu.edu/ask/ !
More...
Mobile Information at Your Fingertips
Himmelfarb is launching a new mobile website this Fall that will provide users with access to many library resources customized for your iPhone, Android, Palm, or Windows device. From this site you will be able to search databases and use apps, download medical calculators, check the library catalog and renew or hold specific items, contact a reference librarian through IM, email, phone or text, as well as access demographic information about the library.
A research guide will also be released this Fall containing more suggested mobile websites and apps for public health and medicine, as well as mobile utilities, news related to mobile technology and health care, and information on specific mobile devices.
Finally, the library is offering a series of drop-in support hours to assist users in getting their mobile devices on the wireless network at GWUMC and in the installation of various healthcare related apps. Upcoming sessions will be held on September 21st from 3-5pm ,October 19th from 3-5pm, and November 16th from 3-5pm at the service desk on the 3rd floor of Himmelfarb Library.
Tool of the Quarter - Dynamed
DynaMed is a clinical information tool designed for use at the point-of-care. DynaMed's format is designed for quick reference and integrated access to evidence from original research and practice guidelines. DynaMed contains clinically-organized summaries on more than 3,000 topics plus current drug information from the American Society of Health-System Pharmacists.
More..
Faculty Profile - Dr. Alex Stagnaro-Green, Senior Associate Dean for Education
Himmelfarb Library introduces a new feature in our newsletter that lets us become better acquainted with our friends and colleagues in the Medical Center. In this issue we learn more about Dr. Alex Stagnaro-Green, MD, MHPE, the Senior Associate Dean for Education in the School of Medicine and Health Sciences.
Question: What has been your most memorable moment at GW?
Answer: My most memorable moment at GW occurred on my first day. After completing a four hour orientation, I went to my office, arranged my desk, and set to work. What I realized at the end of the day was that I felt completely at home in my new position. For whatever reason (I am sure in large part due to the collegial and supportive atmosphere that exists here), I never went through a period of adjustment. It just felt like this was where I was supposed to be.
More..
Meet Tom Harrod, Reference/Instructional Librarian!
Himmelfarb Library is pleased to welcome Tom Harrod to its staff. Tom came to Himmelfarb from the University of Maryland, College Park where he was a reference librarian and worked extensively with the biology, cell biology, and public health departments. Tom's prior educational background includes a MS degree in Basic Medical Sciences with a focus on biology from the University of Alabama, Birmingham and a MS degree in Library and Information Sciences from the University of Illinois, Champaign-Urbana.
Tom's career path initially led him toward work as a laboratory scientist, until he switched gears and decided to apply his interest and knowledge of science to a library career. Tom is a reference librarian at Himmelfarb Library and will act as a liaison between the library and the departments of Biochemistry & Molecular Biology, Neurology, and Neurological Surgery. Tom will also work with first year medical students as their librarian-tutor in the Problem-Centered Learning class, and provide instruction and research assistance to GWUMC faculty, students, and staff.
In his spare time, Tom likes to read, watch movies and play chess - albeit not as well as he would like.
More..
Himmelfarb Health Sciences Library
|
The George Washington University
2300 Eye St., NW, Washington, DC 20037
|
Phone: (202) 994-2850
|
Fax: (202) 994-4343