Himmelfarb Headlines - November / December 2010
Director's Desk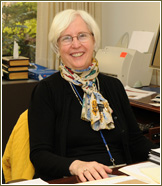 The 2009/10 Academic Year was a busy and exciting one for Himmelfarb Library. The redesigned second floor was opened as quiet study space, electronic journal backfiles were greatly expanded providing increased online access to serials, and new tools for nursing education were introduced. Librarians worked closely with faculty to finetune our collections to current research and clinical needs. The Library itself stayed open 24/7 for onsite use and study. To read about these accomplishments, take a look at the Library's Annual Report.
We hope to carry this excitement forward into the future. To that end, we are working on a strategic plan for the Library. Many faculty members have already responded to a recent survey regarding collections and resource use. Look soon for an invitation to join an upcoming focus group where you can provide us with your vision of the library of the future! We look forward to receiving your insight on future services, resources, and direction. In the meantime, we have begun to explore the mobile delivery of electronic resources. The Library's web page has been optimized for mobile delivery and a research guide listing mobile resources has been developed. The guide lists both mobile-optimized websites and downloadable apps as well as wireless access and device tips. Take a look and then browse MD Consult Mobile from your hand-held or download Dynamed to your smartphone! Any questions, stop by our next drop-in mobile session on January 11th from 3-5pm on the third floor of the Library!
Faculty Profile - Kimberly D. Acquaviva, PhD, MSW; Director, The National Collaborative on Aging; Assistant Professor, The GW School of Nursing
Himmelfarb Library continues this feature in our newsletter that lets us become better acquainted with our friends and colleagues in the Medical Center. In this issue we learn more about Dr. Kimberly D. Acquaviva, PhD, MSW, Director of the National Collaborative on Aging, and Assistant Professor in the School of Nursing.
Tell us a little bit about your current position or research/projects. My current position is Director of The National Collaborative on Aging, an interdisciplinary collaboration between clinicians, educators, and researchers at The George Washington University Medical Center and community-based professionals in the National Capital Region and beyond. In my role as Director, I administer The National Collaborative on Aging Faculty Awards Program, an annual competitive program designed to provide GWUMC faculty members with funding to develop pilot studies with significant potential for substantial future research funding. I also provide intensive assistance to faculty interested in launching or strengthening a research agenda in aging. For faculty members who have written a draft of a funding proposal but need expert editing assistance to get the proposal ready for submission, I work with them directly or connect them with a professional NIH grant editor on contract with The National Collaborative on Aging. The National Collaborative on Aging also supports a portion of Dr. Sam Simmens' time so that he is available to assist faculty throughout the GWUMC with the biostatistical aspects of aging-related projects and proposals. In addition to the pilot funding, biostatistics support, and external grant writer/editor assistance that The National Collaborative on Aging provides faculty, I've been able to provide intensive grant writing and editing services on GWUMC proposals that have yielded more than $32 million in grant funding since I came to GW. I love developing research projects and writing grant proposals, so my teaching assignments in the School of Nursing bring me quite a bit of joy. I teach graduate-level nursing courses in research methods and grant writing, among others, and also serve as a psychosocial faculty member teaching in the Doctor-Patient-Society/Practice of Medicine course in the Medical School.
Tool of the Quarter -

SciVerse Hub
Elsevier, a leading publisher of scientific, technical and medical information, recently launched SciVerse Hub beta, a module that allows users to simultaneously search ScienceDirect, Scopus and relevant scientific web content through Scirus creating a new interface gateway designed to help researchers achieve better results.
One of SciVerse Hub's strengths is the ability to perform a single search across all Elsevier content to access scholarly information. The results are ranked by relevancy containing no duplicate records. To best refine your search you may apply limits using field names, click the suggested spelling link to apply alternative spelling to rerun your search, or use the refine results feature to further narrow your results by publication year or keywords.
SciVerse Hub beta attempts to support researchers' needs with the following three discovery search tools:
Methods Section Search application - A very useful separate search box is available for users to search full-text articles within the methodology section-only of a document.
Matching Sentences application - Returns search results with the query words highlighted in the sentences and paragraphs where they appear in the document.
Prolific Authors application - Need to know who are the most prolific authors within a certain area of research? When conducting a search the results list will include a chart of the prolific authors to help you identify those authors with the most peer-reviewed papers on the topic in your results set.
More..
Voice Recognition Software for Electronic Medical Records
Voice recognition (VR) software converts spoken words to text to allow hands-free information input. Historically, it has been used for speeding up dictation and as a resource for disabled user accessibility. This software is being applied for recording information in electronic medical records (EMRs) in medical facilities including Beth Israel Deaconess Medical Center (BIDMC) in Boston, University of California San Diego Medical Center (UCSD) and Slocum-Dickson Medical Group (SDMG) in New Hartford, NY. With VR, "back-end" dictation of clinical documentation is replaced by immediate "front-end" entry at the conclusion of the patient encounter. Details of the interaction and patient are fresher at this time, which means EMR entries are more complete.
More..
Meet Leah Pellegrino, Head of Collection Content Organization
Though Leah's title may not be easily understood outside the library world, what she does at Himmelfarb Library boils down to one simple thing. Leah makes sure Himmelfarb's thousands of resources can be easily discovered by the Library's users. She's in charge of the creation, structure, and organization of records in the Library Catalog and just recently, the GWUMC Institutional Repository (IR).
The goal of the repository project is to make documents and data produced within the Medical Center available to the GW community. The Medical Center IR is part of the ALADIN Research Commons site, which will eventually include documents and data from across the University. Leah has worked closely with staff from Gelman and Burns libraries and Himmelfarb's web services librarian, Liz Hall, to get the IR off the ground. Faculty and staff who would like to submit materials should contact Leah at 4-3685 or mlblcp@gwumc.edu.
Himmelfarb Health Sciences Library
|
The George Washington University
2300 Eye St., NW, Washington, DC 20037
|
Phone: (202) 994-2850
|
Fax: (202) 994-4343