Himmelfarb Headlines - February / March 2011
Director's Desk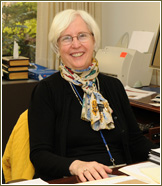 Evolving Workshops
The Himmelfarb Library offers a selection of workshops each semester highlighting Library resources, such as Scopus and PubMed, and software applications, such as RefWorks and spreadsheets. These workshop offerings continue and you can find full information on upcoming sessions on the Library's class schedule. However, our users increasingly work at the edge of the digital frontier and, just as the Library has evolved from a print to an electronic world, our classes are evolving to help you navigate the emerging world of electronic publishing and social media. Three new classes are planned for spring 2011. We hope you can join us for one or all of them! See below for full information. Please feel free to call or e-mail me with any new ideas for workshops (alinton@gwu.edu, 202-994-1826).
Faculty Profile - Karen McDonnell, PhD: Associate Professor in the Department of Prevention and Community Health
Himmelfarb Library continues this feature in our newsletter that lets us become better acquainted with our friends and colleagues in the Medical Center. In this issue we learn more about Karen McDonnell, PhD: Associate Professor in the Department of Prevention and Community Health.
Tell us a little bit about your current position or research/projects.
I'm currently an Associate Professor in the Department of Prevention and Community Health in the School of Public Health and I direct the doctoral program in Health Behavior. One of the reasons I chose GW is the balance between doing research, teaching and service. I love my research and am very fortunate to be able to work in the areas of gender based violence, community health, children's health and program development and evaluation.
Large LCD Monitors
As technology continues to evolve, technological devices are becoming larger or smaller depending on their function. Cell phones and laptops/tablets are becoming smaller and lighter making it easier for us to carry our contacts and work with us. However, other technological devices that are stationary such as televisions are becoming larger, allowing us to view a bigger and higher resolution image from our office or home. Fortunately, we can reap the benefits of both types of devices when we connect them together.
More..
Tool of the Quarter - GWUMC Research Commons
As the Medical Center's publications grow increasingly digital and prolific, the old means of organizing, tracking, and accessing documents are no longer sufficient. Departments are producing a plethora of administrative, as well as research and educational documents. Faculty are publishing their work in a variety of forums, not just traditional scholarly journals. In order to provide access to this wealth of information in an efficient and user-friendly way, and give researchers a stable, controlled platform to self-archive their work, Himmelfarb Library began work on an institutional repository (IR) project last year.
More..
Meet Catherine Harris, Manager of Bloedorn Technology Center
Bloedorn Technology Center's Manager, Catherine Harris has seen the Bloedorn grow from providing class lectures recorded on audiocassettes to today's high tech web-based software collection.
A native of the Washington, DC area, Catherine studied music at Vassar, and earned her master's degree at GW in musicology, with a concentration in 20th century music. She began her career at Himmelfarb Library in 1985 working evenings at the "Bloedorn AV Study Center" - the original name of Bloedorn. Lynn Povanda, who currently runs Classroom Services, was her first supervisor and on her first day at Himmelfarb, Lynn gave her a tour and showed her how to run the duplication service for all the MSI, MSII and PA class lectures, which at the time were all recorded on audiocassettes. Catherine remembers when there were only two medical computer programs available to students, accessible via dial-up that sometimes took ten minutes to load. CD-ROMs and network towers made software access much easier, and now the library is purchasing a growing number of web-based programs in the health sciences and public health. Today, users can access many of these specialty software from home.
Himmelfarb Health Sciences Library
|
The George Washington University
2300 Eye St., NW, Washington, DC 20037
|
Phone: (202) 994-2850
|
Fax: (202) 994-4343