Himmelfarb Headlines - May / June 2011
Director's Desk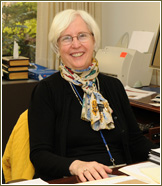 From the Director's Desk
The 2010/11 Academic Year saw lots of changes from the launch of health care reform and the expanding use of handheld computing and electronic health records on the national level to the creation of new programs in mobile health and health information technology on campus. Rising to the challenges presented by these trends, the Library had a busy and productive academic year. We launched a mobile version of our webpage (http://www.gwumc.edu/mobile/) for those of you with smartphones and created a research guide outlining mobile apps in health (http://libguides.gwumc.edu/mobile) to provide evidence-based content at your fingertips. We worked with students and faculty to present a series of workshops on establishing a professional presence on social networks and helped create an online module for second-year medical students on using electronic health records effectively. Using skills we had learned as embedded librarians in distance education classes, we provided virtual reference services during the recent power outage in Ross Hall. We are exploring the use of tools like Elluminate Live to provide information support to both our local and distance education students. The Library's collection of electronic textbooks has grown to slightly over 600 titles. We welcome your feedback on these initiatives and look forward to working with you in the upcoming months as we prepare for the fall semester. As always, please feel free to call (202-994-1826) or e-mail (alinton@gwu.edu) me with your comments and questions. Have a great summer!
Faculty Profile - Linda Werling, PhD: Associate Dean for Graduate Education in the School of Medicine, Professor in the Department of Pharmacology and Physiology
Himmelfarb Library continues this feature in our newsletter that lets us become better acquainted with our friends and colleagues in the Medical Center. In this issue we learn more about Linda Werling, PhD: Associate Dean for Graduate Education in the School of Medicine, Professor in the Department of Pharmacology and Physiology.

Tell us a little bit about your current position or research/projects.

I am currently Associate Dean for Graduate Education at GWU School of Medicine. In that capacity, I direct the PhD program for students in the Biomedical Sciences. I also teach in Pharmacology and Physiology, and in Neurobiology to the medical students. I teach in several graduate courses and direct the Scientific Writing and Ethics courses.

Tool of the Quarter - Health Policy Reference Center
Healthcare is the focus of much debate as the U.S. struggles to determine how best to fund and provide health services to its citizens. Health policy frames this debate, and is a key area of education and research within the George Washington University Medical Center. Himmelfarb Library provides access to several resources to help faculty and students obtain access to updated, high quality information including CQ HealthBeat and the Health Policy Reference Center.
Health Policy Reference Center provides access to journal articles, reports, and trade publications which address topics across the spectrum relevant to health policy. By taking a comprehensive view of health policy, the Health Policy Reference Center provides access to a variety of approaches including health care access and delivery, administration, finance and economics, planning, quality, reform, insurance, law, research, long-term care, maternal and child-health, ethics, public health, and social medicine. While this database focuses on the U.S. debate, international health policy issues are also represented with publications from North and South America, Western and Central Europe, Australia and New Zealand, East Africa, and Iran.
More..
How Do You Highlight and Add Notes to Web Pages, E-Texts and PDFs? It's Easy!
Today's library users enjoy the ease and accessibility of online journals and e-texts but also prefer the benefits traditional print resources provide, especially the ability to highlight, add notes and personalize their "copy" of the text. The next time you are reading a PDF of a journal article, try using an application that will allow you to highlight, and make personal notes in the same way as you would a printed copy. Highlighting and adding personal annotations to PDFs, e-texts as well as web pages is now easily done with the use of a large variety of available "free" software programs.
More..
Meet Yvonne Lee, Himmelfarb Library Collections Coordinator
and Leader of a Greener Interlibrary Loan
Himmelfarb Library tries to provide for all of your information needs, but sometimes our books and journals don't have the answer you're looking for. When that's the case, we turn to Yvonne Lee and our Interlibrary Loan (ILL) Department to fill those needs.
Yvonne originally moved to the DC area from Michigan and came to Himmelfarb as a part-time evening reference specialist in the late 1990s. Her time in evening reference allowed her to keep abreast of library trends and developments while being home with her three young girls during the day. "The best of both worlds" as she put it. After her initial time in reference (which she still covers on a part-time basis), Yvonne worked full-time in Cataloging and Acquisitions and served as a back-up for ILL. With the knowledge of ILL procedures, software and request management gained during that time, Yvonne took over management of the ILL Department.
Himmelfarb Health Sciences Library
|
The George Washington University
2300 Eye St., NW, Washington, DC 20037
|
Phone: (202) 994-2850
|
Fax: (202) 994-4343