Himmelfarb Headlines - September / October 2011
Director's Desk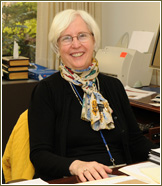 From the Director's Desk
Each fall it is my pleasure to welcome new students and faculty to the Himmelfarb Health Sciences Library. I also have the privilege of welcoming back returning students and faculty. I know that I speak on behalf of all the Himmelfarb librarians and staff when I say that we look forward to working with you in the year ahead to meet your information needs. You may contact me at 202-994-1826 or alinton@gwu.edu. My door is nearly always open!
Faculty Profile - Nancy L. Falk, PhD, MBA, RN: Assistant Professor in the School of Nursing (SON) Nursing Alliance for Quality Care
Himmelfarb Library continues this feature in our newsletter that lets us become better acquainted with our friends and colleagues in the Medical Center. In this issue we learn more about Nancy L. Falk, PhD, MBA, RN: Assistant Professor in the School of Nursing (SON) Nursing Alliance for Quality Care.
Tell us a little bit about your current position or research/projects.
Teaching - I teach primarily online - across at all educational levels - with a heavy focus on Doctor of Nursing Practice (DNP) education. The DNP degree was born as I was completing my PhD (2003-2007) and the timing was perfect. My broad educational background and career history (clinical, informatics, management, and policy) provide an excellent foundation for educating bright, diverse, accomplished DNP students who fill key healthcare roles nationwide. Additionally, I teach core courses (theory, research) with Masters (MSN) students and leadership and health information/quality courses with our accelerated Bachelor of Science in Nursing (BSN) students who have returned to school to obtain a second bachelors degree - this time - in nursing - in just 15 months, full-time.
Scholarship - Nursing Alliance for Quality Care (NAQC) - I am a team member (with research and policy responsibilities) on the Robert Wood Johnson funded NAQC grant. See www.nursingAQC.org for details. My current responsibilities are primarily with our Patient Engagement subcommittee - working at the highest levels nationally to understand and address quality issues related to patient and provider engagement in healthcare.
Tool of the Quarter - Natural Standard
Natural Standard was added to Himmelfarb Library's online collections last spring to provide high-quality, evidence-based information about complementary and alternative therapies. Natural Standard provides professional-level information on dietary supplements (including herbs, vitamins, and minerals), functional foods, diets, complementary practices (modalities), exercises, and medical conditions. Because Natural Standard is designed to provide clinically relevant information, the database uses a clear grading system to reflect the level of scientific evidence available for the use of each therapy for a specific medical condition; grades range from A where strong positive scientific evidence is available to F which indicates that strong negative scientific evidence is available.
More...
QR Codes
What is this?
You probably have seen these odd looking barcodes in stores, magazines, newspapers and flyers. If you have a smartphone, QR Codes, or Quick Response Codes, allow you to scan the 2D barcode with your smartphone camera to link you to online content. Easy to produce, QR codes can be an excellent marketing tool creating an interactive experience and provides direct outreach to mobile users.
QR Codes were first developed in 1994 in Japan by Denso Wave, a Toyota subsidiary, to track car parts for its factory. Today, it is widely used to help market products and services and are commonly seen in stores like BestBuy and Target. Himmelfarb Library has begun using them to help connect patrons to online research guides, sign up for workshops and promote resources and services.
More...
Meet Elaine Sullo, Himmelfarb Library Coordinator of Information and Instruction Services
Himmelfarb Reference Librarian Elaine Sullo is working hard to bring Information finding and organizational support to systematic review teams at GW. Elaine got started on supporting systematic reviews through a post-masters certificate program in Advanced Health Sciences Librarianship at the University of Pittsburgh. Part of the Reference Services and Instruction in Healthcare Environments class focused on expert searching, publication bias, collaboration with faculty, and exploration of the core systematic review databases and grey literature sources. Within the class, Elaine was assigned to a group that was given a systematic review topic for which they had to harvest search terms; create search strategies in PubMed, EMBASE, and CENTRAL; and also search grey literature sources such as conference proceedings and trial registries. She also examined the PRISMA checklist, a document to help authors report systematic reviews and focuses on ways in which authors can ensure transparent and complete reporting.
Himmelfarb Health Sciences Library
|
The George Washington University
2300 Eye St., NW, Washington, DC 20037
|
Phone: (202) 994-2850
|
Fax: (202) 994-4343