Himmelfarb Headlines - February / March 2012
Director's Desk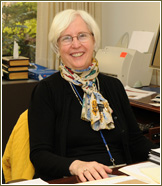 Today's students generally work in a dynamic, electronic environment. They search the literature online, crunch statistics in the cloud, collaborate on projects through shared online spaces, use social networking tools to stay in touch with each other, and read most of their textbooks, lecture notes, and source materials online - often with portable devices. All of this behavior is so easy and natural that few students stop to think about the professional impact of their activities in the electronic environment. Recently, the Library has collaborated with the School of Medicine, the School of Nursing, and the Health Sciences Programs to present a series of workshops on e-professionalism. These workshops are designed to heighten awareness of maintaining personal and patient privacy, differentiating social and professional behavior, and understanding concepts such as respect for intellectual property.
The Library also worked with the School of Public Health and Health Services to incorporate many of these concepts into its recent professionalism workshop. One aspect of all of these workshops that has been particularly successful is the use of real life stories related to e-professionalism. As we all work to improve future workshops, I would like to ask our readers to send their insights to our workshop coordinator, Gisela Butera, at gisela@gwu.edu. What tips and thoughts would you share with students about creating a professional presence online? Do you have examples of professional blogs or websites that you would like to tell students about? Thank you in advance for sharing. Have a wonderful spring.
Faculty Profile - Arnold Schwartz, MD Professor of Pathhology and Surgery
Himmelfarb Library continues this feature in our newsletter that lets us become better acquainted with our friends and colleagues in the Medical Center. In this issue we learn more about Arnold Schwartz, MD, Professor of Pathology and Surgery.

Tell us a little bit about your current position or research/projects.
I am currently a member of the Doctor of Nursing Practice (DNP) faculty team and coordinate the Healthcare Quality graduate degree and certificate program for nurses. The coordination includes good teamwork with School of Medicine and Health Science (SMHS) faculty as the core coursework for that program entails inter-professional student enrollment and faculty mentoring with the National Committee for Quality Assurance (NCQA).

Additionally, I am consulting on a School of Medicine and Health Science Healthcare Initiative grant funded by the Developmental Disabilities Administration (DDA) in Washington, D.C.

I recently published an article with two colleagues, Dr. Michael Woolcock from the World Bank and Dr. Anne Hofmeyer, from the University of South Australia on the measurement of social capital for hospital nurses. I am about to submit another one this month

What has been your biggest professional challenge?
Meeting all of the obligations of being full-time, tenure track faculty on a 12-month contract. Taking time off for vacation is probably my biggest challenge, which is necessary to balance the professional demands.
Emerging Technologies - Data Management Plans for Your Research
Data management is an important component of high quality research. The NIH Statement on Sharing Data, National Science Foundation Policy of 2011 and other recent federal policies have addressed data management, requiring a Data Management Plan (DMP) for federally funded research. Complete data management addresses data collection, storage, analysis, protection, ownership, retention, reporting and sharing.
What should you address when creating a Data Management Plan (DMP) for your research?
Types of Data

What types of data will you be creating or capturing? (experimental measures, observational or qualitative, model simulation, existing)
How will you capture, create, and/or process the data? (Identify instruments, software, imaging, etc. used)
Tool of the Quarter - A Researcher's Dream Database... Scopus
If you are looking for a robust database that is multi-disciplinary and easy to navigate with an intuitive interface - try exploring Scopus.
Launched in 2004, Scopus is a large international research database providing access to abstracts and citations of peer-reviewed literature. It contains over 46 million records to articles in 18,500 peer-reviewed journals including open access journals as well as conference papers. One of the strengths of the database is that it covers 100% of MEDLINE, allowing you to conduct a comprehensive search within medicine and other health-related disciplines. In addition to medical literature, it provides research coverage in the physical, technical, and social sciences.
More..
Meet Kathy Lyons, Himmelfarb's Circulation Manager
As Himmelfarb Library's circulation manager, Kathy Lyons has been the face students and faculty most associate with the library for the past seven years. Need to check out a book, pay a fine, use a copier, troubleshoot the pay for print, or find a reserve item? Kathy can, and on a daily basis does, help with all of that. It's a demanding job and the start of a new semester is always busier than normal. This January the addition of a turnstile to control access to the library made it even more so.  Kathy takes it in stride.

A successful circulation manager requires several qualities. One of the more important is the ability to multi-task. Most mornings Kathy is answering phones, while checking in returned materials, while tallying register receipts from the day before. Being good at troubleshooting unruly machines, especially of the printer/photocopier variety, is another major asset. Good humor and patience round out the list. She's heard every excuse on the planet for why a book could not be returned on time. But Kathy still manages to wear an understanding smile and calmly explain the Library's policies after hearing the latest creative reason why Bates Guide... is coming back three weeks late. It's all part of the territory and Kathy's learned to roll with it.
Himmelfarb Health Sciences Library
|
The George Washington University
2300 Eye St., NW, Washington, DC 20037
|
Phone: (202) 994-2850
|
Fax: (202) 994-4343