Himmelfarb Headlines - May / June 2012
Director's Desk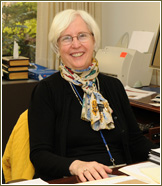 The spring 2012 semester is rapidly winding down. The Library staff hopes all faculty and students will have a chance to rest and reflect over the summer. It is well deserved! We will be reflecting and evaluating over the summer ourselves! The Library has been asking you lots of questions this spring. We sent a survey on Library services and resources to all current students in the Schools of Medicine and Health Sciences, Nursing, and Public Health and Health Services. Faculty members received a survey asking them to assess journal collections in their respective subject areas. Once all responses have been received, we will carefully review them to assess adjustments to collections and services. Many thanks to those of you who filled out our surveys. If you still have a suggestion, question or concern, please feel free to contact me at 202-994-1826 or alinton@gwu.edu. As always, we look forward to working with you, our faculty and students, in the semesters ahead. Have a great summer!
Brenda Helen Sheingold, PhD, RN
Assistant Professor, Coordinator Healthcare Quality MSN
The George Washington University School of Nursing
Himmelfarb Library continues this feature in our newsletter that lets us become better acquainted with our friends and colleagues. In this issue we learn more about Brenda Helen Sheingold, PhD, RN, Assistant Professor, Coordinator Healthcare Quality MSN, The George Washington University School of Nursing.
Tell us a little bit about your current position or research/projects.
I am currently a member of the Doctor of Nursing Practice (DNP) faculty team and coordinate the Healthcare Quality graduate degree and certificate program for nurses. The coordination includes good teamwork with School of Medicine and Health Science (SMHS) faculty as the core coursework for that program entails inter-professional student enrollment and faculty mentoring with the National Committee for Quality Assurance (NCQA).
Additionally, I am consulting on a School of Medicine and Health Science Healthcare Initiative grant funded by the Developmental Disabilities Administration (DDA) in Washington, D.C.
I recently published an article with two colleagues, Dr. Michael Woolcock from the World Bank and Dr. Anne Hofmeyer, from the University of South Australia on the measurement of social capital for hospital nurses. I am about to submit another one this month.
Emerging Technologies - Data Management Plans for Your Research
Data management is an important component of high quality research. The NIH Statement on Sharing Data, National Science Foundation Policy of 2011 and other recent federal policies have addressed data management by requiring a Data Management Plan (DMP) for federally funded research. Complete data management addresses data collection, storage, analysis, protection, ownership, retention, reporting and sharing.
Two training sessions on data management plans are scheduled for July 12th (3-4 PM) and July 19th (12-1 PM) at Himmelfarb Library. Click one of the links above to register.
More..
Tool of the Quarter - Introducing a New Multi-search Service
One stop search products for databases and electronic resources called "discovery services" have recently come to the market. At Himmelfarb, we've been working with EBSCO's Discovery Service (EDS) for the past year to optimize it for the Library's users. In February, a small group of students and faculty members were invited to work with Himmelfarb and EDS to identify areas that needed improvement. This feedback was extremely useful and a number of changes were made to the interface in response. We're now ready to release the service to all of Himmelfarb's users in late May/early June. EDS will replace the multi-database search on the Library's home page.
EDS will allow simultaneous searching of a foundation index of resources from some of the top academic databases and many of the Library's most popular databases and electronic resources, including MEDLINE, CINAHL, PsycInfo, SportDiscus, Health Policy Reference Center, and the Library catalog. Searchers will be able to easily link to full text of retrieval when available and use a variety of tools to save, share, and email resources and search strategies.
Meet Paul Levett, Reference/Instructional Librarian
Like a detective putting together clues in a logical manner, Paul Levett uses his organizational skills and eye for detail to help faculty, staff and students find the information they need. As one of Himmelfarb Library's reference librarians, Paul can usually be found either helping individuals or teaching them skills to improve their own research abilities.

A native of Great Britain now living in Arlington (VA), Paul joined the Himmelfarb reference team six years ago. He quickly developed a focus on instruction and this led to opportunities to teach informatics in the Problem-based Case-based Learning (PCL) curriculum in the School of Medicine, as well as recurring requests to orient new public health and physician assistant students, as well as new residents. Paul is also the library's liaison to Emergency Medicine, Health Policy, and Internal Medicine which has led to numerous consultations and presentations for individuals and groups in these departments.
Himmelfarb Health Sciences Library
|
The George Washington University
2300 Eye St., NW, Washington, DC 20037
|
Phone: (202) 994-2850
|
Fax: (202) 994-4343