Himmelfarb Headlines - September / October 2012
Director's Desk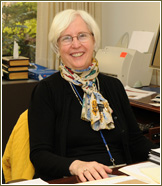 Welcome to a New Academic Year!
On behalf of the entire Himmelfarb Library staff, I would like to extend a warm welcome to all new faculty, students, staff, residents, and fellows. I would also like to extend greetings to all returning faculty and students on the start of a new academic year.
The Library staff looks forward to meeting your information needs in the upcoming months. We also welcome your input! You may contact me at 202-994-1826 or alinton@gwu.edu. The Library's e-mail address is himmelfarb@gwu.edu. The telephone number for the reference desk is 202-994-2850. Or send us an instant message by following the directions at: http://www.gwumc.edu/ask/index.cfm!
Loretta DiPietro, Professor and Chair of the Department of Exercise Science
Himmelfarb Library continues this feature in our newsletter that lets us become better acquainted with our friends and colleagues. In this issue we learn more about Dr. Loretta Dipietro, Professor and Chair of the Department of Exercise Science.
Tell us a little bit about your current position or research/projects.
Currently I serve as Professor and Chair in the Department of Exercise Science. Our mission is to promote the science and practice of exercise, physical activity, and nutrition within the context of public health. In that regard, we are one of very few departments of exercise sciences in the world housed within a school of public health. My personal charge is to train the best scientists and practitioners possible in order to best serve the health of the public. My research focuses on the role of exercise in successful aging and I currently am conducting an NIH-funded series of metabolic studies in collaboration with the United States Department of Agriculture in Beltsville.
Library Collections
Himmelfarb Library provides access to a wide variety of resources including print and electronic books, journals, databases, and audiovisual collections.Information regarding all resources and access to electronic resources is available via the Library website.
Journals
Over 3,500 full-text electronic journals supporting SMHS, MISPH and SON are accessible through the Himmelfarb Library E-Journals webpage.These journals are linked on the article level in MEDLINE, PubMed, CINAHL with Full-Text, Scopus and other Himmelfarb databases. Search the E-Journals page by title or ISSN, or browse by subject. E-journals are available on-campus and off through the VPN/GWireless and ALADIN. Older journal issues collected in print are available in on-site and off-site storage.
More...
Emerging Technologies - Fitness Apps
Over the past several years, online information resources have gone mobile and many can now be accessed via app or mobile-optimized website. In addition to clinical, drug, and research oriented databases available as mobile/handheld resources which can support your professional pursuits, healthy eating and exercise apps can support your fitness pursuits.
Diet apps can help you track your calories, make healthier food choices, and balance your food and exercise to maintain, gain or lose weight. While there are numerous nutritional apps to explore, here are a few top-rated iPhone and iPad apps to get you started:
Cost: Free
Description: Huge database of food to track calories; barcode scanner; tracks cardio and strength training, including sets, reps, and weight/rep; allows users to connect with friends, set goals, and create reports.
Tool of the Quarter - SPORTDiscus with Full Text
SPORTDiscus with Full Text features the same searching power as the original SPORTDiscus database. It can help you identify research materials on sport, exercise, fitness, sports medicine, and other sports-related disciplines, and now offers even more full-text availability for these materials. The upgraded database includes full-text access to 550 journals dating back to 1985.

SPORTDiscus with Full Text contains more than 1.7 million indexed journal article, book, and conference proceedings citations as well as over 22,000 dissertations and theses. Full text articles are available in many subjects including sport psychology, physical therapy, kinesiology, orthopedic medicine, nutrition, public health and more. In addition to the academic journal content in SPORTDiscus with Full Text, you can also read recent articles from many sport- and exercise-related magazines including Golf Magazine, Men's Fitness, Backpacker and Bicycling.
Meet Anne Linton, Director, Himmelfarb Health Sciences Library
In recognition of the library's Healthy Lifestyle campaign that will kick off in October, Anne Linton was selected for this issue's staff profile. Many of Himmelfarb's librarians and other staff members take health and wellness seriously and incorporate exercise into their weekly routine. But given the demands of Anne's job as Himmelfarb Library's director, and all of the responsibilities that she juggles, her efforts to incorporate fitness and healthy activities make her particularly noteworthy.

Anne first joined the Himmelfarb Library and GW in 1984, making her one of the longest serving employees. She started on the front lines as a reference librarian which acquainted her with many of the faculty and staff she continues to work closely with today as Director. Her focus has always been on education, outreach, and making vital resources available and accessible to the library's users. Outside of Himmelfarb, Anne is active in many professional activities, including serving as a lecturer in the School of Library and Information Science at the Catholic University of America, and in many leadership positions with the Medical Library Association (MLA), Mid-Atlantic Chapter of MLA, and the Special Library Association.
Himmelfarb Health Sciences Library
|
The George Washington University
2300 Eye St., NW, Washington, DC 20037
|
Phone: (202) 994-2850
|
Fax: (202) 994-4343