Himmelfarb Headlines - February / March 2013
Meet Christopher Cook, Head, Collection & Content Organization Librarian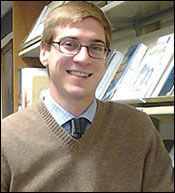 Christopher Cook is the Cataloging and Collection Content Organization Librarian at Himmelfarb Library. In this role, Chris is responsible for maintaining records of all of the library's resources (books, journals, audiovisual, etc.) in all formats (print, online, multimedia formats). Chris' work means Himmelfarb Library users can identify the resources they need in the Library Catalog and the Health Information @ Himmelfarb research portal. Chris' department also maintains course reserves which can help faculty make sure their students have straightforward access to course materials.
Chris launched the Health Sciences Research Commons (HSRC) last fall. The Health Sciences Research Commons is an online repository of GW-affiliated research and provides a forum for faculty to archive and showcase their research. To learn more about this project and how it can benefit faculty, read Introducing the Health Sciences Research Commons: Himmelfarb Library's New Institutional Repository.
Chris came to Himmelfarb Library in May 2012 from the National Oceanic and Atmospheric Administration where he worked as a cataloger. Prior to that, Chris was a rare book cataloger at the University of Illinois at Urbana-Champaign. While Chris' work no longer focuses on rare books, he maintains an interest in this area. Over the last several years, Chris traveled to Westminster Abbey in London to catalog 15th century works and will publish a book based on this work later this year. In his free time, Chris likes being outdoors, especially during the summer months, sailing, and hiking. Last summer, Chris participated in the GW staff softball league.
In addition to his cataloging responsibilities and the Health Sciences Research Commons, Chris also works with 1st year medical students as a library faculty tutor for a Problem-oriented Case-based Learning group, and is a key member of the Himmelfarb Library team that is managing the transition to a new catalog system this spring. Chris' favorite part of his job is working with Himmelfarb Library staff who he describes as efficient, cohesive, and collaborative. He also likes working in a health sciences environment where access to information can have a meaningful effect on people's lives.
Himmelfarb Health Sciences Library
|
The George Washington University
2300 Eye St., NW, Washington, DC 20037
|
Phone: (202) 994-2850
|
Fax: (202) 994-4343