Himmelfarb Headlines - May / June 2013
Director's Desk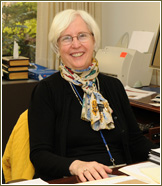 Congratulations to all of our graduating students and best wishes for a wonderful summer to those heading out on break! It has been a busy and productive year here at Himmelfarb. The Faculty Journal Assessment Project has resulted in a collection more closely aligned to faculty needs, the e-book collection has expanded tremendously, the wireless infrastructure has been upgraded, and there is a new integrated library system supporting the background operations of the Library.
Summer 2013 looks to be equally busy with major construction, and corresponding noise, taking place directly under the Library. The Library will remain open 24-7 through June 30, 2013, then switch to a 7:30 AM to 12 midnight schedule for the month of July. While your classes may not be in Ross Hall this summer, you can still stay in touch with Himmelfarb librarians by calling (202-994-2850), texting (Text "himlib: your question" to 265010.), e-mailing (himmelfarb@gwu.edu), or using the instant message reference service at http://www.gwumc.edu/ask/index.cfm. Also, please take advantage of our "librarian on the go" program for this summer by contacting Alexandra Gomes (202-994-1825, gomesa@gwu.edu) to schedule a class visit or consultation session with your students in your summer class locations. We are happy to come to you wherever you are on campus!
Faculty Profile - Dante A. Verme, M.S., Ph.D; Professor and Vice Chair for Educational Activities in the Department of Epidemiology and Biostatistics
Himmelfarb Library continues this feature in our newsletter that lets us become better acquainted with our friends and colleagues. In this issue we learn more about Dante A. Verme, M.S., Ph.D; Professor and Vice Chair for Educational Activities in the Department of Epidemiology and Biostatistics.
Tell us a little bit about your current position or research/projects.
I am currently Professor and the Vice-Chair for Educational Activities in the Department of Epidemiology and Biostatistics. I oversee the offering of close to 80 courses every year under the auspices of the department and supervise the appointment of close to 80 Instructional Assistants (IAs) to lead small groups in our courses. My teaching revolves around courses in SAS, Biostatistics and GIS. I have done work in forecasting time series and have offered courses in this area as well. My current research is on geospatial lagged regression. It is an ever evolving area with quite tangible applications in public health.
What has been your biggest professional challenge?
I face challenges at work every day. I like it this way. It makes me a better faculty and a better person. Facing and solving challenges polishes on me exercising good judgment when making decisions. I don't avoid a challenge but rather take it on stride.
I have had many challenges of all calibers in my academic career. The one that has stayed with me was keeping my composure in the lecture I had to give two days after 9-11. It was in the introductory course in biostatistics. We used to offer a section of this course at Children's National Medical Center early evenings. I never felt how important the presence of a faculty was to students until that day. I have always setup as my goal being a role model to my students and I want to be viewed and remembered as such.
Tool of the Quarter - Check Out the New Library Catalog!
Have you noticed a change in the Library's catalog? If you haven't searched the catalog for a while, we encourage you to try out the new version now available on the Library's home page. You can click the Library Catalog link or use the Catalog tab on the search box to search directly.
Unlike the old catalog interface, Encore (the new system), offers search tools that users have come to expect from a modern search interface. Encore provides options for an easy keyword or advanced search. If you misspell or type a search term, the new catalog will prompt with a "Did You Mean?" correction. The advanced search allows users to put limits on the search initially and combine search terms with Boolean logic (AND, OR, NOT). The keyword option searches all entered terms and uses relevancy ranking to bring the best matches to the top of the hit list (searchers have the option to re-sort by currency or title). From there, facets displayed on the left hand side of the search results screen allow users to further winnow results.
Emerging Technologies - Browzine
As journals have made the leap to an online format over the past years, it's become easier than ever to move from finding an article to reading the full-text. However, as it's become easier to access an individual article via PubMed, CINAHL, or Scopus, the task of keeping up with the literature has become more daunting. Browzine is a technology tool that bridges the gap between routine scanning of favorite journals and a format that's portable, legible, and ready for you to read whenever and wherever that is.
Browzine is a new technology which allows faculty to read their favorite Himmelfarb Library journals on their iPads. With additional apps for Android and iPhone users coming soon, Browzine allows users to select their favorite titles across multiple publishers and platforms in a single app. Browzine allows users to:
Easily read journals in a format that is optimized for iPads.
Create a personal bookshelf of favorite journals.
Be alerted when new editions of journals are published.
More...
Meet Michael Blake, Web Services Librarian
Redesigning our library website is a huge task, and Himmelfarb's Web Services Librarian, Michael Blake, is enjoying the opportunity to reshape the site into a new, more functional design. One of Himmelfarb's newest staff members, he recently joined us in November 2012 and his ideas and enthusiasm have already made an impact. One of Michael's primary roles is managing the library website and making sure the website integrates properly with other library electronic resources, such as Health Information @ Himmelfarb and the library catalog. He is also embedded as a faculty librarian in the Problem Oriented Case-Based Learning (PCL) course teaching informatics to 1st year medical students. He describes his students in his PCL Group as a great group of medical students to work with and teach.
Michael notes, "It has been more than 5 years since the website was last redesigned and I am excited to integrate some new web technologies like HTML5 and Responsive Design, which should make the library website more accessible on mobile devices." He intends to reach out to faculty and students for input in the redesign process so be on the lookout for some surveys about the website soon. In addition to his technical expertise Michael is also interested in information architecture and how users interact with information in digital forms.

Himmelfarb Health Sciences Library
|
The George Washington University
2300 Eye St., NW, Washington, DC 20037
|
Phone: (202) 994-2850
|
Fax: (202) 994-4343