Himmelfarb Headlines - August / September 2013
Director's Desk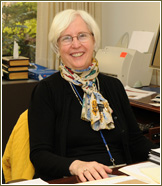 Welcome to a new Academic Year and best wishes for the fall 2013 semester to all new and returning faculty, staff, and students! As usual Himmelfarb librarians and staff have been preparing for the upcoming year. Much of the Library has been refreshed over the summer. Take note that wireless access has been expanded with greater capacity. Check out the new chairs and study tables on the third floor. Enjoy the uncluttered views in the B103 computer lab thanks to new desks that house the monitors at eye level. Take a walk up the freshly painted stairs. Check out our camcorders and tripods as you prepare to create online tutorials.
Faculty Profile - Hiroki Morizono, Departments of Integrative Systems Biology and Pediatrics
Himmelfarb Library continues this feature in our newsletter that lets us become better acquainted with our friends and colleagues. In this issue we learn more about Professor Hiroki Morizono, Departments of Integrative Systems Biology (ISB) and Pediatrics. and Pediatrics.
Tell us a little bit about your current position or research/projects
I am on the faculty of the Departments of Integrative Systems Biology and Pediatrics and based at Children's National Medical Center, and have a research program into understanding inherited urea cycle disorders, and relating molecular defects to systemic metabolic disruptions. As a co-director of the Biomedical Informatics component of the Clinical and Translational Science Institute between CNMC and GW, I am trying to develop tools that will make it easier for researchers to find collaborators, and to manage and mine complex data.
What has been your biggest professional challenge?
With the bleak outlook for funding of biomedical research, I think the biggest challenges remain ahead.
What has been your most memorable moment at GW?
When getting my GW faculty ID (so that I would have Library access) discovering how incredibly friendly and helpful everyone was here was my first introduction to the campus, and that impression has continued over the years with everyone I have met at GW.
Plugged-In: Linked Data: The Semantic Web Application That's Changing How Information Is Organized on the Web
When Tim Berners-Lee created the World Wide Web in 1989, his purpose was to enable sharing of documents within the scientific community. As the web took off and the number of documents available on the web went from hundreds to millions, he recognized that his original hypertext technologies had their limitations. In the early 2000's Berners Lee became an advocate for the Semantic Web. In a 2001 Scientific American article he described the Semantic Web as an extension of the current web in which information is given well-defined meaning, better enabling computers and people to work in cooperation (Berners-Lee, 2001).
As the number of documents on the web grows exponentially and large open access datasets become available, the need for a functioning Semantic Web that can organize and make information findable on the raw data level instead of the document level becomes more urgent. For a long time the Semantic Web remained a concept that a community of computer and information scientists met and talked about in World Wide Web Consortium (W3C) meetings. They created standards including the Resource Description Framework (RDF) and began developing ontologies that could be employed in it to describe data and the relationships between data points. Now all of that work and planning is finally coming to fruition as applications of RDF are creating linked data on the web.
Tool of the Quarter - Amirsys Imaging Reference Center
This summer, the library acquired a new imaging library which has both educational and clinical applications. The Amirsys Imaging Reference Center is a repository of more than 72,000 images including x-ray, CT, MR, and ultrasound images. Each high-quality image is accompanied by a concise, evidence-based evaluation summary written by an imaging expert.
Users can search Amirsys by either disease or condition (e.g. Sports Hernia, Inflammatory Breast Cancer, Femoral Neck Fracture, Croup, Meningioma, etc.) or browse Amirsys by broad topic categories (e.g. Brain, Breast, Chest, etc.). Amirsys also displays the current most popular images and topics on the search page for quick access.
Meet Julie Silverman, Associate Director, Collections and Access Services
Julie Silverman became the new Associate Director of Collections and Access Services in April 2013, returning to GW after an eight year absence. She was first hired as a student worker at the Burns Law Library, where she innocently asked how the letters and numbers that were written on the back of the title page were determined. That, as they say, was that! She then went on to work as a copy cataloger and progressed through various roles within technical services. During part of her eight years away from GW, Julie served in a similar Associate Director role at the University of Colorado's Anschutz Medical Campus Library.

In her first few months at Himmelfarb, Julie has been working with the library operations team to create a more nimble and responsive collection. She helped launch a Patron Driven Acquisitions pilot and streamlined our ordering and receiving processes in order to reduce the order-to-shelf time. Julie is also interested in leveraging the Library's new catalog to further streamline processes and enhance the patron's experience.
Himmelfarb Health Sciences Library
|
The George Washington University
2300 Eye St., NW, Washington, DC 20037
|
Phone: (202) 994-2850
|
Fax: (202) 994-4343