Himmelfarb Headlines - November / December 2013
Director's Desk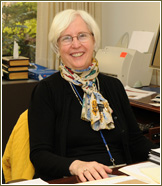 The weather is finally turning cooler but construction in Ross Hall and across campus continues. As a result, many of our users are scattered across the Foggy Bottom area and cannot pop into the Library for a few minutes as easily as in years past. So let me remind you that the Library's electronic resources remain available 24/7 both on and off-campus. Wherever your office or classroom is located, you still have access to the Library's online collections of more than 3,800 online journals, 1100+ online e-texts, and over one hundred databases. Use the Library webpage as your base of operations for information resources. It includes links to the Library Catalog, databases, e-journals and e-texts.
Take a look at some of our newest research guides, including Faculty Teaching and Research Support, Data Management Plans, and Systematic Reviews. You can even access the Library's web page from your handheld device at http://himmelfarb.gwu.edu/mobile/. Directions for off-campus access are available at: http://www.gwumc.edu/services/access.cfm
Faculty Profile - Dr. Billinda Tebbenhoff, Director, Bachelor of Sciences in Nursing Program
Himmelfarb Library continues this feature in our newsletter that lets us become better acquainted with our friends and colleagues. In this issue we learn more about Dr. Billinda Tebbenhoff, Director, Bachelor of Sciences in Nursing Program.
Tell us a little bit about your current position or research/projects.
I am currently the director of the Bachelor of Science in Nursing Program here at GW's Virginia Science and Technology Campus. My research is in behavioral science, specifically cortisol science and the HPA axis.
What has been your biggest professional challenge?
I have been incredibly fortunate in my career journey. I have taken some career risks that turned out quite well. I would say my biggest challenge was managing my fear: fear of failure, fear of wasting precious time. All we can do is make the best decision with the information we have at the time and be accountable for whatever happens.
What has been your most memorable moment at GW?
My most memorable moment at GW was attending the signing of the guaranteed admission agreement between GW and the Virginia Community College system at the Governor's office in Richmond. Earlier in my career, I worked in rural Virginia and have witnessed the effects of the nursing shortage in these areas. GW's commitment to address these health disparities will vastly improve the health and quality of lives within and beyond the Commonwealth.
Plugged-In: Himmelfarb Library Website Re-design

The Library's new responsive website.
A Library's web presence is the gateway to all the resources and services it has to offer. A good one leads users easily to the best sources for their information needs, informs them of important services and programming, and connects them with Library staff members who can provide assistance when needed.
Himmelfarb Library's website has not had major revisions since the mid-2000s. Given the many changes and improvements in web services, and in the collections and services the Library offers, it was time for an overhaul.
Enter Michael Blake, the Library's newly hired Web Services Librarian. Michael's experience with website design made him the go-to person for leading the project. Assisting Michael is a team of library staff members including both those with technical knowledge of the library's resources and those in teaching and information services roles.
The group started working in earnest early this year, first looking at the current page in depth to determine what was still needed and working well, and what wasn't. This was followed by a survey of the Library's users to see if their perceptions were similar to those of team members, and to find out what other changes were desired.
Tool of the Quarter - ClinicalKey
ClinicalKey is a next generation resource which will replace MDConsult at Himmelfarb Library. Like MDConsult, ClinicalKey offers single search access to a broad spectrum of clinical information including journal articles, books, practice guidelines, and drug information. However, ClinicalKey greatly exceeds the range of MDConsult with the incorporation of more than a thousand new book and journal titles and additional multimedia resources.

The heart of ClinicalKey is full-text content with more than 1,100 full-text book titles, nearly 600 full-text journal titles, FirstConsult medical topic articles, a practice guidelines library, and patient education materials. In addition, ClinicalKey delivers multimedia content to support teaching and learning including Procedures Consult which provides high quality video, text and illustrations to support learning common medical procedures. ClinicalKey also houses an extensive image library with more than 2 million images derived from Elsevier and ScienceDirect books and journal articles. All images can easily be incorporated into PowerPoint presentations using the Presentation tool, which downloads the image along with the correct citation.
Meet Alexandra (Alex) Gomes, Associate Director, Education, Information, and Technology Services
Alexandra Gomes, Michael Driscoll, and Diston Chiweza at the Mulunguzi restaurant, Zomba Plateau, Malawi
Just like snowflakes, no two days are alike for Alexandra ("Alex") Gomes, Himmelfarb Library's Associate Director for Education, Information, and Technology Services. Alex oversees the activities of the Reference team, the Web Services division, and the library's technology staff. Each of these departments is engaged in large-scale projects including the upcoming Himmelfarb website redesign, the growth of the embedded librarian initiative in the School of Nursing (SON) and School of Medicine and Health Sciences (SMHS), and the ongoing challenge of maintaining the library's 200+ computers, printers and related software. In addition, she continues to fulfill many of the responsibilities of a Himmelfarb reference librarian including teaching in the School of Medicine's Problem-Oriented Case-Based Learning course, being embedded in SON's DE courses as the resident librarian, serving as a liaison to three departments, and taking shifts on the reference desk.
Over the past fourteen years at Himmelfarb, Alex has worked with many students and has come to understand how much they rely on the library to support their studies and research. As part of a team from the Himmelfarb Health Sciences Library and Information Technology Department, she recently had the occasion to learn that this is a universal need among health sciences students.
Himmelfarb Health Sciences Library
|
The George Washington University
2300 Eye St., NW, Washington, DC 20037
|
Phone: (202) 994-2850
|
Fax: (202) 994-4343