Bloedorn Technology Center
General Information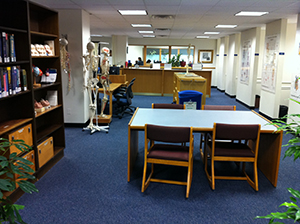 Phone: (202) 994-2857
Location: Third floor of the Himmelfarb Library
Hours: The Bloedorn Technology Center is open the same hours as the rest of Himmelfarb Library. Visit our Hours section.
About: The Bloedorn Technology Center (BTC) supports and supplements the curricula of the School of Medicine and Health Sciences, the Milken Institute School of Public Health, and the School of Nursing. It provides access to computer software, both general and health-related, along with a collection of DVDs, Audio CDs and various anatomical models and kits. Printing and scanning are available at the BTC, and technical support is provided throughout the day for library users.
Computer Resources
Computer Availability (on-campus only)
Computers: The Bloedorn Technology Center houses nearly 60 public Dell PCs with flat-screen monitors available for use. The computers in the Middle Computer Lab, where the B/W printers are located, are spaced farther apart than in other rooms to encourage collaborative studying. In 307F, the Multimedia Curricular Workstation and Media Cart provide access to software useful for creating digital media and for screen capturing and recording in the service of creating video tutorials.
Faculty may request that software be installed on the Bloedorn computers by submitting the Institutional Software Request Form. Send the completed form to Anne Linton, Himmelfarb 101, or email the scanned form to alinton@gwu.edu.
Click here to reserve the Multimedia Curricular Workstation.
Software: PCs in the Women's Board Teaching Classroom (307A) and adjoining computer lab spaces of the BTC provide access to the MS Office Suite, internet, Adobe Acrobat Pro, and to supplemental curricular software that offers instruction in Medical, Health Sciences, and Public Health topics.
Popular titles:
Printing: Two public WEPA print kiosks are available in the BTC. The charge for black and white printing is $0.09 per sheet, or $0.10 per sheet ($0.05/side) if printing double-sided. The charge for color printing is $0.70 per sheet ($0.35/side if printing double-sided.) Additional printing tips and instructions can be found on the Himmelfarb Printing and Copying page.
Scanning: Several flatbed scanners are also available for GW SMHS, GWSPH, SON faculty, students and staff to use. Scanners are located at the following workstations: K1, K2, K3 and 307F. See the computer location chart for more information.
LCD flat screens: Forty-two inch LCD flat screen monitors are installed in numerous small group study rooms on the second and third floors of Himmelfarb Library.
Headphones, as well as VGA cables, adapters and remotes for use with the Library's LCD flat screen panels are checked out at the Bloedorn Technology Center Help Desk. (Headphones may also be checked out at the Circulation Desk on the first floor.)
Technical Assistance: A data technician is on duty for assistance and consultation Sunday through Thursday from 11am - 7:30pm. They provide help with hardware, software, printing, scanning and wireless issues.
Audiovisual Collection
DVDs and Audio CDs: The Bloedorn Technology Center houses more than 600 titles in the basic sciences, clinical medicine, public health, and nursing. Materials include those purchased from commercial or academic sources as well as a number of classics produced at GW. DVDs and Audio CDs for loan are shelved in the BTC and can be located by searching the Library's online catalog. These materials are checked out at the Circulation Desk on the first floor. They circulate for three weeks.
Popular titles: