Finding resources: Databases
There is just one problem with journal articles. There are too many to read and digest. Seventy-five years ago, there were only 1,000 scientific journals published. Today there are over 25,000 and a new scientific journal article is published every 26 seconds*. How can you find the information you need when you don't have access to and can't possibly read all the journal articles published in a single week?
Databases: Tools for finding journal articles
Isn't there something to make finding the right journal article easier? To find journal articles on a particular topic, you would use a database that tracks information about journal articles (topic, authors, date, pages, etc.), such as MEDLINE.
Databases of journal articles are sometimes called journal indexes. They contain the who/what/where information about journal articles. They tell you who published a journal article on what topic and where to find it in the print or electronic journals. In a journal index, database records list the author(s), title, and publication date of a journal article along with the journal name, volume and issue. Records can also include a summary or abstract of the article, keywords, or subject headings that reflect the content of the article, and the authors' affiliation or institution where the research was conducted. Some records contain links to the complete article or full-text.
Journal indexes were once published in print, but now exist primarily in electronic format. Most journal indexes at Himmefarb Library are searchable using a web interface. Go to our
e-Databases page
for a list of databases available through Himmelfarb.
Note that most of the information in these databases is NOT freely available on the web. They are licensed for your use by The George Washington University. As such, they are proprietary databases; that is created, compiled, and distributed by a publisher just like a print book or journal. We pay publishers to provide you with access to this information.
Please note that students and faculty are governed by an Appropriate Use Policy when using these tools.
Off-campus access
Because our databases are not subscribed resources that we pay for, you will need to login to access them from off-campus. Read our instructions for off-campus access for more information.
Quick searching tips for databases
Pay attention to what databases you are searching and what subjects it covers.
Break your research question into single concepts.
Consider synonyms for your concepts.
Combine concepts.
Apply LIMITS to focus your results.
Evaluate the results and refocus your search if necessary.
Select the most appropriate articles from your search results.
Getting the full-text
After you have found appropriate articles through your database search, you will need to get the articles. Often, if the library subscribes to the journal electronically there will be a link to the full text of the article from within the search results. Look carefully for links that say "full-text" or "pdf."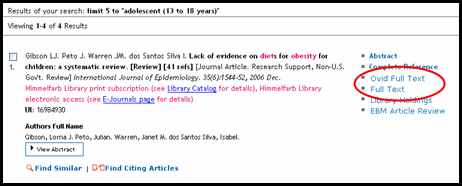 If there is no full-text link:
Check Himmelfarb's e-journals page to confirm our subscription.
Check the library catalog for the journal title to see if we have the journal in print. (Do this especially for older articles, which may not be electronic.)
If Himmelfarb does not subscribe to a journal you can check ALADIN to see if the Gelman Library or another local university has the journal.
If you still can't find an article you need you can either go to another library, such as the National Library of Medicine, which is located in Bethesda on Metro's red line. Or, you can also request an InterLibrary Loan.

More tutorials
For a tutorial on using databases to find articles, go to:
http://www.gwu.edu/gelman/database/articles/
For a list of tutorials on database searching, go to:
http://www.gwumc.edu/library/tutorials/index.cfm
* Young KM. The World of Informatics in Informatics for Healthcare Professionals. Philadelphia: F.A. Davis, 2000, pp. 16-17.